If you are travelling to Argentina, in addition to reading up on the country, it is necessary to clarify all those important details before you set off - do i need a visa? how long does it last? where is my country's embassy? how do I get there? WhatArgentina is here to help with clear and useful information to make sure you have everything you need.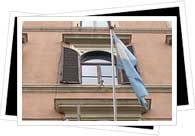 Visa Requirements
Unless you are intending to stay for several months, the likelihood is you will not need a visa to travel to Argentina. Check if you fall into the following categories, if not, contact the Argentine Embassy in your country to find out what you need to do.
No visa required on stays up to 90 days for nationals of the following countries :
EU countries, Canada, United States, Australia, New Zealand, South Africa, Andorra, Barbados, Bolivia, Brasil, Chile, Colombia, Costa RIca, Czech Republic, Croatia, Dominican Republic, Ecuador, El Salvador, Guatemala, Haiti, Honduras, Hungary, Israel, Malta, Mexico, Monaco, Nicaragua, Norway, Panama, Paraguay, Peru, Singapore, Slovenia, Switzerland, Turkey, Uruguay, Vatican City, Venezuela, Yugoslavia.
No visa required for stays up to 30 days for nationals of the following countries: Hong Kong, Jamaica, Malaysia.
Embassy Contact Details
British Embassy in Argentina
Dr. Luis Agote 2412, C1425EOF, Buenos Aires
Tel: (54 11) 4808 2200
www.britishembassy.gov.uk
Argentine Embassy in UK
65 Brook Street, London, W1K 4AH
Tel: (0044) (0)207 3181 300
www.argentine-embassy-uk.org
US Embassy in Argentina
Avenida Colombia 4300, C1425GMN, Buenos Aires
Tel: (54 11) 57774533
www.argentina.usembassy.gov
Argentine Embassy in US
1600 New Hampshire Ave, Washington DC 20009-2512
Tel: (202) 238 6401
www.embassyofargentina.us
Canadian Embassy in Argentina
Tagle 2828, C1425EEH, Buenos Aires
Tel: (54 11) 4808 1000
www.geo.international.gc.ca
Argentine Embassy in Canada
81 Metcalfe Street, Suite 700, Ottawa, Ontario, K1P 6K7
Tel: 1 (613) 236 2351
www.argentina-canada.net
Australian Embassy in Argentina
Villanueva 1400, C1426BMJ, Buenos Aires
Tel: (54 11) 47793500
www.argentina.embassy.gov.au
Argentine Embassy in Australia
John McEwen House. Level 2, 7 National Circuit, Barton, ACT 2600
Tel: (612) 62739111
www.argentina.arg.au
New Zealand Embassy in Argentina
Carlos Pellegrini 1427, 5th floor, Capital Federal CP1011, Buenos Aires
Tel: (54 11) 4328 0757
www.nzembassy.com
Argentine Embassy in New Zealand
Level 14, 142 Lambton Quay, Wellington
Tel: (64) 4472 8330
www.arg.org.nz
South African Embassy in Argentina
Marcelo T. de Alvear 590, 7th Floor, C1058AAF, Buenos AIres
Tel: (54 11) 43172932
www.embajadasudafrica.org.ar
Argentine Representative in South Africa
200 Standar Plaza, 440 Hilda Street, Hatfield, 0083
Tel: (012) 430 2907