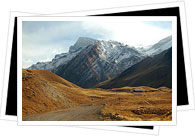 The western side of Argentina is a dry, warm, wine lover's paradise. The exciting urban metropolis of Mendoza is a must see, whilst the region is also crammed full of natural landmarks. The rich red sandstone characteristic of the area makes national parks like that of Talampaya so beautiful, and you can head back to the prehistoric ages in Ischigualasto. Then ofcourse, there is the mammoth Mount Anconcagua - an exciting challenge for all budding hikers.
This is one of the best places to take a tour of one of Argentina's many vineyards and get your tastebuds in tune with the high quality wine of the region. You can also enjoy the more laid back way of life found in the smaller towns and villages by scheduling your trip around a festival or taking a few days out to slow down the pace and soak up the every day culture of the locals in one of the pretty plazas.
Want to find out more? Follow the link to read our West Argentina Highlights.