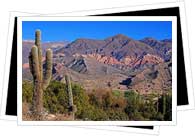 The Northwestern sector of Argentina is crammed full of hidden gems just waiting to be discovered. The main cities are Salta, Tucumán and Jujuy all of which offer easy access for excursions to the surrounding areas. Nature is at its best here with deep gorges, grand valleys and unforgettable vistas.
This is also a good region to enjoy some of the best Argentine architecture from beautiful colonial houses to pre-incan ruins. The culture in this area is distinct to the rest of the country due to the large number of Quechua natives. This adds a strong indigenous feel to the region and it is definitely worth trying to schedule your trip around a northwestern festival when the warmth of the people and the traditional customs can be witnessed in their full glory.
Travel to northwest Argentina and experience it for yourself! Click on the link to see our Northwest Argentina Highlights.