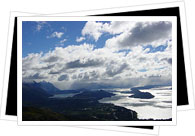 Argentina's Lake District marks the northernmost point of Patagonia and the landscape is defined by a rich fusion of vibrant forestry, towering mountain ranges, snow-capped peaks and ofcourse, plenty of deep, dazzling lakes. As you explore this area of Argentina you will constantly be amazed at how beautiful a simple landscape can be. All material things aside, this region takes the visitor back to pure and natural basics where mother earth does her thing and hours can be spent just gazing out into verdant horizons.
As well as enjoying the beautiful natural surroundings which are at their best in the many National Parks of the region, there are also several quirky little urban centres well worth a visit. San Carlos de Bariloche is the biggest, most lively and most touristy and is a perfect example of the picturesque, modest Argentine architecture found throughout the Lake District. However, you shouldn't miss a trip to some of the smaller towns where it's easy to fall in love with their quaint simplicity.
Don't miss an opportunity to be at one with nature's treasures and explore the most aesthetically pleasing region in Argentina. Follow the link to read Highlights to Argentina's Lake District and enjoy!