Argentina Lake District Highlights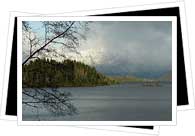 Bariloche - An absolutely beautiful city with lots to do and perfectly located for exploring the surrounding areas. San Carlos de Bariloche is picturesquely located on the edge of the sparkling Nahuel Huapi lake and offers plenty of adventure sports and skiing opportunities. The town itself is memorable for its alpine village style architecture and buzzing nightlife. Check out our Bariloche, Argentina guide for more information.
Parque Nacional Nahuel Huapi - The first National Park in the country continues to be extrememly popular year round. At Nahuel Huapi there is plenty to do from trekking and skiing to relaxing in some of the world's most beautiful surroundings. Check out the National Parks in Argentina page for more information.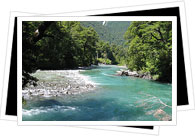 Parque Nacional Los Arrayanes - is actually found inside Nahuel Huapi National Park and ensures maximum protection of the Arrayán forest. These unusual trees are most beautiful in the summer time when they sprout bright white flowers and dark black fruit. Dedicated hikers may also want to brave the tough ascent up one of Argentina's most challenging peaks, Volcano Lanín in the Parque Nacional Lanín. Follow the link for more information on the most popular National Parks in Argentina.
San Martín de los Andes - It may be small and compact, but San Martín de los Andes is full of charm. A kind of mini version of Bariloche, which similar gingerbread house architecture, San Martín is for those travellers who want to avoid - or recover from - the party mahem that hits Bariloche at night. The town is also on the edge of Lácar lake and watersports are aplenty here. If you fancy following the 'Camino de los 7 Lagos' (Trail of the 7 lakes) then Lácar is a great place to start as it sits at the northernmost end of the route (which then continues up to Nahuel Huapi).
Villa la Angostura - A little hidden away jewel amidst the Argentine Lake District. Villa la Angostura is a melting pot for all things good, you can enjoy beaches, forests, mountains, adventure sports and damn good food all in one place - it really does have it all. There is also some top class accommodation available here, making it a great retreat for a few days fun and relaxation.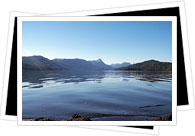 El Bolsón - A hippy haven of peace, tranquility and all things organic is what you will find in this pretty town nestled within a valley at the bottom of Mount Piltriquitrón. A hike to the peak of this mountain will be rewarded with spectacular views as well a trip through a unique tree sculpture park in the Bosque Tallado. El Bolsón first became popular in the 1970's when it was stumbled on by a group of young people, sick of the city's urban grind and in search of nature. El Bolsón became that place and ever since it has been carefully maintained as an eco friendly, organic and practically self sufficient place. In 1984 the area was named a Non-Nuclear Zone and an Ecological Municipality to ensure that its special atmosphere is maintained. There is a market several times a week in which over 300 artisans sell arts, crafts and local produce like fruit, veg and tasty jams.