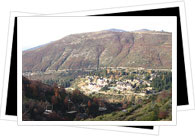 San Carlos de Bariloche is a picture perfect destination and the best place to stop and enjoy Argentina's lake district before plunging into the icier climes of southern Patagonia. The incredible thing about Bariloche is that whilst it has been crowned the party capital of Patagonia, it has also retained a captivating small town feel to it. Sitting on the banks of the Nahuel Huapi lake, the city is found in an unbeatable location of dazzling natural beauty.
Sights in Bariloche, Argentina
The architecture of Bariloche is one of the most enchanting things and makes you feel as though you are wondering around the setting of a fairy story. In the late 1800's, the city was inhabited by Germans and Austrians and their mark has most notably been left in the style of the buildings which resemble cabins in a swiss alpine village. Argentina's most important architect, Alejandro Bustillo was responsible for designing the neo-gothic style Catedral Nuestra Señora de Nahuel Huapi and he also colaborated with Ernesto de Estado on the Centro Cívico. Built in 1940, this collection of pretty buildings made from local stone and timber flank the main square and look out over the lake. They also house the very interesting Museum of Patagonia (see Museums in Argentina for more information), as well as a cultural centre, public library, tourist office, police station and the main government building. So more or less, everything you need can be found here!
Entertainment in Bariloche, Argentina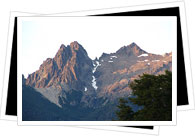 There is plenty to do in and around Bariloche for budding adventurers - many people opt to take a tour, hike or cycle along the 65km Circuito Chico which runs around the lake. The Cerro Catedral is another popular destination in winter for great skiing and during the summer months for every kind of adventure sport you could wish for, from rafting to mountain biking. Check out the National Parks in Argentina page for more information on the Nahuel Huapi national Park.If you've got your sea-legs ready then why not embark on the boat trip across to Puerto Montt in neighbouring Chile? The journey takes up to two days depending on the season and the views are truly magnificent.
Bariloche didn't gain its reputation for being a party city for nothing - you'll be spoilt for choice with all the high quality restaurants and lively bars that burst into action at nightfall. Calle Mitre is the best street to begin your exploration of Bariloche by night. It is also the best place to pick up some of the famous local produce - chocolate! This road is home to a plethora of little shops selling these melt-in-your-mouth delights so be sure to take some home with you.