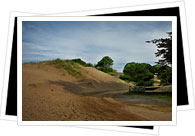 From the buzzing federal capital to the flat treeless plains this eastern region of Argentina which encompasses Buenos Aires and The Pampas is jam packed with things to do and is definitely worth a good chunk of your time.
Whilst exploring this region you will stumble across some of Argentina's most popular urban destinations; Buenos Aires and Cordoba which offer a sumptuous mixture of laid back Argentine culture with a thriving arts scene, high class accommodation and endless possibilities for nightowls. There are also a whole host of attractive little towns where traditional life has been immaculately preserved. It is this region, outside the city of Buenos Aires, that the romanticised symbol of the Argentine gaucho was born. This American-indian cowboy figure is characteristic of the pampas and marks the region as the agricultural heart of the country.
The area is also a great place to enjoy the rich landscapes of the country. Although the pampas are characterised by their flatness, the weather in this part of Argentina ensures it remains green and lush, perfect for all those grazing cattle! There are several nature reserves and national parks in the region which showcase an extremely varied mixture of flora and fauna.
So what are you waiting for...? Get on your horse and explore this enchanting region gaucho style before tucking into a delicious Argentine asado!