Las Pampas and Buenos Aires Highlights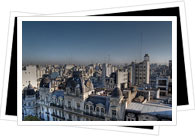 Buenos Aires City - Argentina's beautiful capital city is one of a kind in the Americas. It has a decidedly european air to it and oozes elegance and style in every way. You could easily spend weeks perusing the streets and soaking up the very unique ambience that the city has to offer. From the brightly coloured working class districts of La Boca, San Telmo and Montserrat where the seductive rhythm of the tango rules, to the upmarket boutique-fied neighbourhoods like Palermo and Recoleto, Buenos Aires will entice you and leave you asking for more. For more information check out our Buenos Aires city guide.
Cordoba - Argentina's second city is home to seven universities and an unrivalled arts scene. With pristine colonial architecture, diverse museums and lively nightlife, this historical city is an unforgettable destination. Click on the link for more information on Argentina's Córdoba city.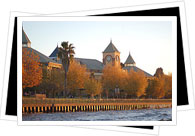 Tigre - Located only 18 miles north of Buenos Aires, tigre is a beautiful little town that seems as though it belongs to a different world to the busy modernisation of the country's capital. It is popularly frequented by tourists who come to see the well preserved colonial architecture and the charming 'palafitos', traditional wooden houses which poke up out of the water on stilts. The town runs alongside the Paraná river and there is ample opportunity for watersports or taking a catamaran tour along the peaceful delta. Tigre is also home to two sea-related museums, the Museo Naval de la Nación and the Museo Histórico Prefectura Naval Argentina. However, most visitors find a trip to the enormous fruit market their most fervent memory of the town. In addition to a vast array of brightly polished exotic fruit, this is also a good place to start your Argentina shopping and pick up a few souvenirs.
San Antonio de Areco - This quaint town embodies the true soul of Argentina's gaucho tradition so is a good choice for all budding cowboys! It is a real pleasure to wander around the pedestrianised streets in the town centre and there is plenty of well preserved nineteenth century colonial architecture to marvel at as you go. In particular, the Plaza Ruiz de Arellano which houses the pretty municipal building. It is here that you will get the best feel for traditional Argentine gaucho culture and a visit to the Museo Gauchesco Ricardo Guiraldes makes a good stop for enriching your understanding of it and is housed in a reconstructed eighteenth century ranch house. San Antonio de Areco is the perfect place for sampling some traditional criollo Argentine food and drink, as well as shopping for silverware in the numerous craft shops. If you are in the vicinity on the week of November 10th it is well worth heading to the town for the Día de la Tradición, a festival of all things gaucho; traditional music, food and drink and general fun! Check out our Festivals in Argentina page for more information.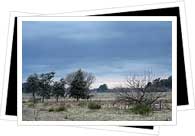 Luján - This pretty town is the religious heart of the pampas and is heavily orientated towards tourism. The town centres itself around the vast Basílica Nuestra Señora de Luján, a french gothic style church which is heavily ornamented to demonstrate the importance given to religion and the Virgin of Luján in this area. The church took just under 40 years to finish and building began in 1887. Over five million pilgrims descend on Luján each year and the most famous pilgrimage takes place in October, however in September there is also a traditional gaucho one, where pilgrims arrive on horseback.
La Plata - This beautiful city is the provincial capital of the Buenos Aires province and was designed in its entirety by the French architect Pedro Benoit before being constructed. The city has been recognised on a global scale for its intelligent and neat design and the geometrically symetrical streets contain a plaza every seven blocks so you are never far from a bit of greenery and a nice place to relax. La Plata is a brilliant place to see some exceptional examples of Argentine architecture. In particular, the stunning neo-gothic style cathedral, dripping with adornments and sparkling stained glass windows. The Palacio Municipal is also an impressive example of German influenced architecture. A walk around the Plaza Moreno, Plaza San Martín and the Pasaje Dardo Rocha will give you a good taste for some of La Plata's most interesting buildings. Also be sure to visit the Museo de Ciencias Naturales, one of Argentina's most famous museums, and the South America's largest children's park - the República de los niños where replicas of important buildings from the Alhambra to the Taj Mahal can be found and everything is in miniature. By night there is also plenty to do in La Plata with lots of restaurants and bars as well as the Teatro Argentino - a sturdy edifice with an exciting program of events.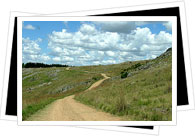 Tandil - This is a charming little town with a big variety of things to do. Especially famous for the 300 ton Piedra Movediza which balanced miraculously on top of the Cerro la Movediza for thousands of years before falling in 1912. Whilst you can no longer see this incredible sight, the town continues to cash in on its unusual history. Tandil is located in the Tandil mountain range, making it a great starting point for hikers and rock climbers. Other than that the town itself is famous for its dairy production and a trip to the town is not complete without trying some of the exquisite cheeses that are on offer. For a small town, Tandil has a large selection of bars and restaurants to explore so it's worth finding some accommodation and staying a few days in this warm and welcoming little place.
Mar del Plata - One of Argentina's most important coastal resorts, Mar del Plata is popular with natives and foreigners alike and its warm temperatures and far reaching beaches are constantly busy in the summer months. Here, the modern urbanization and arrival of holiday makers fuses with the traditional ambience of a small town fishing village which ensures Mar del Plata does not lose its charm. There are watersports and excursions aplenty and masses of restaurants and bars to keep you entertained in this coastal haven. Follow the link for a detailed guide to Argentina's beaches.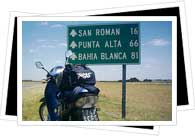 Bahía Blanca - This pretty town houses one of Argentina's most important ports and wool, oil and fruit are among the main exports from this region. There is some interesting architecture to be take a look at in this tranquil town, especially the Palacio Municipal, Teatro Municipal and around the Barrio Inglés. The contemporary art museum is also well worth a visit.
Santa Rosa - This rather remote town was founded in 1892 and is a chilled out place to relax in the Pampas. Whilst the town itself does not have a huge amount on offer there are some decent restaurants, a good art museum and natural science museum. Santa Rosa's main attraction is that it is the gateway to the Lihué Calel National Park, a wonderful place to explore the plains and valleys of Las Pampas. Click on the following link for more information on National Parks in Argentina.