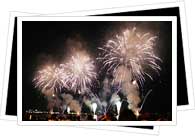 Argentina is a party place and attending one of its many festivals is a perfect way of gaining a better understanding of the culture. There are a wide range of festivals throughout the year from antiquated religious traditions to contemporary art exhibitions to fiestas which just seem to be an excuse for a bit of fun and socialising. Try to schedule your trip around one of the local festivals where you may get to sample some typical food and drink, dance to traditional music and party with the natives!
January
1st: New Year's Day - National Fiesta
Fiesta Nacional del Folcloro is held in Cosquín, near to Córdoba. It is a lively and unrivalled tribute to Argentina's long folkloric traditions with music, dancing and lots of traditional food and drink.
Feb/ March
Carnival is celebrated all over the country so you can't really miss it. Some of the most famous places to head to for the festivities are Corrientes or Gualeguaychú in the El Litoral Region, La Chaya in La Rioja (West Argentina) and Santiago del Estero (Northwest region). If you are going to be in Argentina during carnival, one of these destinations is undoubtedly where you will find the best party. Whilst Argentina is no Brazil when it comes to carnival, these towns definitely have a go! People are attracted from all over the country to the festivities which generally involve processions, elaborate sparkly costumes, lots of fancy dress, drinking, dancing, music and general merrymaking all night long..
One week towards the end of February sees the Fiesta Nacional de la Vendimia in Mendoza. This homage to the grape harvest basically means it is a great time to sample some of Mendoza's best wine whilst watching the elaborate processions which celebrate this highly treasured beverage.
Fanatics of Argentine Tango should not miss the annual Buenos Aires Tango Festival which takes place between February and March. There are masses of performances all over the city and lots of opportunities to learn a few steps of the most famous dance in Argentina.
Festival del Viñador (La Rioja, West Argentina) is another wine fuelled festival at the beginning of March and another great excuse for wine tasting and fun.
April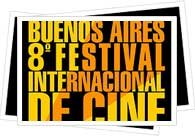 Film buffs should head to the Festival Internacional de Cine Independiente in Buenos Aires, when an interesting selection of both National and International films are shown by independent film makers. A good place to spot up and coming talent.
May
1st Labour Day (dia de los trabajadores): National Fiesta
Día de la Vrgen de Luján means big celebrations in this pretty religious town in the region of Las Pampas.
Between the 11th and 18th May, contemporary art lovers should head to Buenos Aires for Arte BA, an absolutely enormous arts festival where high quality exhibitions spring up all over the city.
June
The 20th is the anniversary of the death of Manuel Belgraño, designer of the Argentine flag. During the Semana de la Bandera (Week of the Flag) the citizens of Rosario pay their respects at the monumento nacional a la bandera.
The 24th marks the death of ledgendary Tango star, Carlos Gardel and fans make a heartfelt pilgrimage to his grave in the Chacarita Cemetery in Buenos Aires.
August
For 10 days, the beautiful ski city of Bariloche (in Argentina's Lake District) celebrates the Fiesta Nacional de la Nieve (National Snow Fiesta) a definite must for lovers of the slopes.
One week also sees the Semana de Jujuy where this attractive city in the northwest region of Argentina bursts into life for a week of partying to celebrate the founding of the city.
September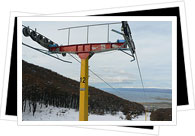 La Hoya ski resort in Esquel, Patagonia celebrates the Fiesta Nacional del Esquí (National Ski Festival), another snow filled, fun packed party.
October
Get yourself to Villa General Belgrano (near Córdoba) in the first two weeks of October for Oktoberfest - an enormous beer festival that celebrates the German culture of the region.
12th Dia de la Raza (Colombus Day): National Fiesta
A incredible tribute to the Welsh heritage of Trelew and the other Welsh villages of the Chubut Valley (Patagonia) have been celebrating the Eisteddfodau since 1875. If you're interested in Welsh music and literature this week long festival is the best time to learn all about it.
Patagonia's Esquel celebrates the Fiesta Provincial del Teatro, an artsy celebration where you can catch a wide selection of interesting theatrical works.
November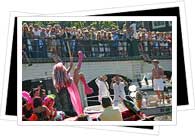 The first Saturday of the month, Buenos Aires leaps into action with its Gay Pride festival- floats, processions, expositions and merriment.
Make sure you are in San Antonio de Areco on the week of the 10th for the Día de la Tradición (Day of Tradition) which is actually a whole week of celebrations and fiesta in honour of Argentina's Gaucho tradition. Expect to see lots of cowboy-esque activities, traditional food and drink, music and dancing all in the heart of Gaucho land, Las Pampas.
December
Mid-month is the Festival de Chámame in Corrientes (El Litoral) which celebrates this interesting traditional music style with lots of dancing and concerts.
25th Christmas Day: National Fiesta