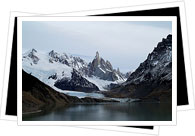 Argentina's Patagonia really does have it all. As you travel further south and the climate gets increasingly colder, so the landscapes become more sparse and otherworldly. On reaching the bitter icyness of Southern Patagonia and the Tierra del Fuego you will arrive into glacier territory winessing some of the most incredible scenery our world has to offer us. Weird icy rock formations which sparkle as the sun hits their jagged surface, surrounded by sparkling antarctic waters is not something we get to see every day and should certainly not be missed.
Further north Patagonia offers great skiing in winter and hiking in summer. Wildlife is at its wildest and most interesting here too, you may catch a glimpse of the endangered Huemul, a type of deer only found in Argentina and Chile. Or a trip to the Valdez Peninsula is an amazing place to see all types of marine life from elephant seals to baby penguins.
A trip to this unusual part of the world can be topped off by exploring the Chubut valley where you can sip tea in the traditional Welsh settlements, perhaps the last thing you imagined doing in Argentina but well worth it as the teas are divine and the culture, fascinating.
So what are you waiting for? Argentine Patagonia is filled to the brim with exciting things to do and a trip to this spectacular and unusual region will definitely enhance your take on the country as a whole. Click on the link to read our Highlights to Argentine Patagonia and enjoy!