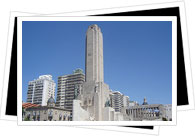 El Litoral is the name given to the most northeastern sector of Argentina touching the border with Uruguay, Paraguay and Brazil making it a good area for venturing out or coming in to the country.
The area encompasses the provinces of Misiones, Corrientes , Entre Ríos and some of Chaco and Santa Fe. It is an area of biological diversity and includes some of the most beautiful aspects of our natural world from the immense Iguazu falls to luscious virgin forests. In this region you can also enjoy the urban gems of Rosario, Santa Fe and Corrientes where there is a thriving community and plenty to do by day and by night. There are also the remains of four Jesuit missions to visit.
You certainly won't get bored exploring Argentina's el litoral so what are you waiting for?! Click on the link to read all about the Highlights of El Litoral Argentina.