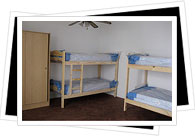 Opting for a hostel is your best bet if you are sticking to a tight budget when you travel to Argentina. You won't be hard pushed to find a decent hostel anywhere in Argentina and you may find it is the best way to meet people, find travel companions and exchange tips. Most hostels have the option of dorm rooms for up to around 8 people (sometimes more) which can be same sex or mixed. Many also offer private rooms with shared or private bathrooms which can work out a lot more economical than a cheap hotel whilst giving you a bit more privacy than a shared dorm.
Do not be afraid to ask to see the room before you agree to stay in a hostel and always check out facilities - some hostels have kitchens which means you can save money on eating out and others have bars, cafés and laudary rooms, all of which can help to be more comfortable on your Argentine adventure.
One of the best ways to choose an Argentina is to take reccommendations from travellers as you go because many small establishments open and close or change hands frequently, meaning it is hard to keep information up to date. A good start is to book in to a worldwide chain like the Hostelling International backpackers hostels - they have hostels all over Argentina and rooms at very reasonable prices. Being part of a chain means they are regulated and standards are up to scratch. For discounts it is worth becoming an HI member (14 USD/year) and taking advantage of discounts on accommodation and travel all over the world.
HI Hostels in Argentina can be found at the following locations:
HI Hostels Buenos Aires
Buenos Aires
Humberto Primo 820, San Telmo, Buenos Aires
Tel: (54 11) 4300 7992
Rooms between 8-24 USD/night
Obelisco
Avenida Corrientes 839, CO1043, Buenos Aires
Tel: (54 11) 4328 4040
Rooms between 8-31 USD/night
Palermo
C/Charcas 4752, Palermo District, Buenos Aires
Tel: (54 11) 4773 0806
Rooms between 8-31 USD/night
Tango Backpackers
Paraguay 4601, Palermo, Buenos Aires
Tel: (54 11) 4773 7289
Rooms between 8-31 USD/night
Tango City
Piedras 680, San Telmo, CO1030, Buenos Aires
Tel: (54 11) 4300 5764
Rooms between 8-39 USD/night
HI hostels outside Buenos Aires:
Iguazú
Ruta 12, km5, Puerto Iguazú, Misiones
Tel: (54 3757) 421 823
Rooms between 9-64 USD/night
Marcopolo Inn, Bariloche
Calle Salta 422, San Carlos de Bariloche
Tel: (54 2944) 423 102
Rooms between 11-52 USD/night
Marcopolo Inn, Calafate
405 Street, 82, El Calafate
Tel: (54 02902) 493 899
Rooms between 11-77 USD/night
For more information visit Hostelling International Argentina at www.hostel-inn.com.