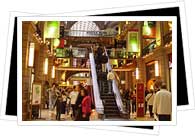 Best Entertainment in Buenos Aires
As well as its sleek elegance and modern sophistication, Buenos Aires is renowned for its buzzing arts scene, lively bars and restaurants, world class clubs and excellent shopping. What is certain is that you'll never have enough time to sample all the entertainment that Buenos Aires city has on offer.
Shopping is at its best in Buenos Aires and you can rummage around in search of a bargain at several markets; San Telmo's Sunday market (Plaza Dorrego) is popular, especially for antiques whilst the Gaucho fair in the western neighbourhood of Mataderos is great for indulging in a bit of Argentine tradition. More upmarket shopping can be done in the voguish boutiques of Palermo, Retiro and Recoleta districts. Check out our Argentina Shopping guide for more information.
Buenos Aires is a thriving cultural hub with loads of different theatres and live music shows, get hold of a copy of Wicked, a monthly publication in English and Spanish which contains music and theatre listings. The main cluster of theatres is found in the centre around Avenida Corrientes so it's well worth taking a stroll to see what's on when you're in town. For live music, Jazz lovers will be in their element at Notorious (Avenida Callao 966) which doubles up as a specialist cd shop as well as a bar. For Tango, head to La Viruta (Armenia, Palermo) or Club de Vino (Avenida Cabrera) for jazz, tango and wine. Down south in San Telmo, La Boca and Montserrat you will find a lot of really traditional Tanguerías. No frills joints where locals and foreigners alike can go to enjoy some truly passionate and real tango. One of the most famous is El Viejo Almacén (Balcarce, esq.Independencia) an oldtimer which has been running since 1969 and pulls in some of the best tango acts.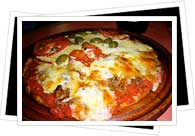 Food and drink in Buenos Aires is extremely varied and you'll find a lot of choice. The northern neighbourhoods of Palermo and Recoleta are brilliant for good food. For traditional Argentine fare, you will find parillas all over the place, CampoBravo (Báez 292, esq.Arévalo, Las Cañitas) serves up some of the tastiest steaks in town, whilst La Parilla Luli (Guatemala and Bonpland) is a more basic place where you can eat like the locals, with the locals and even better - pay local prices. Italian food is also popular, so much so that you'll never be far from a decent pizza in Buenos Aires. Infragnanti (Bonpland 1808, Palermo Soho) is a great choice and as well as damn tasty pizzas and pastas, they also play live jazz. If you're looking for non-argentine style food, you will find an especially varied selection of world restaurants along Calle Báez in Las Cañitas.
All around Argentina you will stumble across another popular style of restaurant - the All You Can Eat. This is a great option for penniless and hungry budget travellers and will fill you up for a week, plus they normally come with wine too. La Generosa (Avenida Corrientes 4152) is a particular favourite and you can enjoy pretty much any type of food here, there is even great choice for vegetarians which is not commonplace in this meat munching country.
For after dinner drinks, you will be spoilt for choice with Buenos Aires' massive selection of bars. A little wander around Palermo Hollywood, Palermo Soho and Las Cañitas and you will have stumbled upon an ample selection with a wide variety of music depending on your taste. 878 (Thames 878) is a little gem for chilling out and chatting. Don't be put off by the tranquility of the street, you need to ring the doorbell to be let in and then you will find a comfortable, spacious watering hole with a truly laid back vibe. Plaza Palermo Viejo is packed with nice bars, Limbo and Bartok are especially good for coctails. Similarly Plaza Serrano (also known as Plaza Cortázar) is bursting with nice bars and cafés.
Even the most hardcore clubber will have their work cut out sampling all that Buenos Aires has to offer. Whilst the weekend officially starts on Thursday night in clubland, you won't be hard pressed to find somewhere to party any day of the week.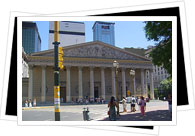 One of the most talked about places in the city is La Catedral, a slightly alternative club that is well worth a visit if you fancy watching or dancing a bit of tango. Another popular spot is Asia de Cuba (Dealessi 750, Puerto Madero Este) with a really varied mixture of music and outdoor terrace in summer, this place is especially good if you want to join the cool kids - but make sure you dress trendy.
La Cigale (Avenida 25 de Mayo 722) is downtown in the Retiro/Microcentro area. It's a small, funky bar, really popular with foreign students and travellers as well as locals. The music is generally electro but Tuesday is French night! Make sure you get there early as later on it gets very busy.
Bahrein (Calle Lavalle 345) is a good choice for Drum 'n' Bass on weekdays as well as weekends. Still in Palermo, Carnal (Calle Niceto Vega) is a great bar with roof terrace and is right in front of Club Niceto where you can party into the small hours.
Crobar (Marcelino Freyre s/n Paseo de la Infanta) is one of the newest clubs to hit BA, attracting world class international dj's, however entrance can be pricey.
La Costanera is a massive strip in Palermo where you will find masses of clubs like Pachá and other slightly pretentious haunts popular with the wealthiest of the Porteñan youth.
Definitely try and schedule in a trip to Club 69 at the Roxy Club (Federico Lacroze 3455, esq. Alvarez Thomas). This ledgendary club night has been running for over 9 years on Thursday nights and is certainly an unusual experience. A weird Moulin Rouge type show with crazy costumes and lots of drag is the general idea - it needs to be seen to be believed.
Southwards, in the less glitzy area of San Telmo, as well as the Tanguerías, Museum club and Moliere are studenty haunts which pump out Latin Pop until 4am. San Telmo's Plaza Dorrego is also a perfect place to end the week and chill out on a Sunday evening.