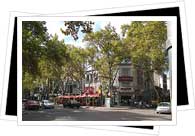 Mendoza has a lot to offer its visitors, from the liveliness of the city centre to the endless opportnities available in the surrounding areas, you are sure to enjoy the laid back and very unique mendocino way of life.
The city was completely devastated in the immense 1861 earthquake when one third of the city's population were killed and practically all the buildings were destroyed. For this reason what you will find today is a very different kind of city, in which the remnants of a colonial past have been replaced by low, earthquake-proof buildings and wide streets and plazas. Within its 58 sq km, Mendoza holds many treasures and a lot of life owing to the several universities and thriving student population who live there... you can't fail to have a good time!
Sights in Mendoza City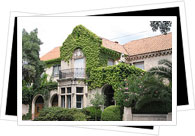 One of the most pleasant things to do in Mendoza is wander around the pretty squares and park and soak up the atmosphere. The heart of the city is the Plaza Independencia where a lot of the daily action takes place. The Plaza de España is especially pretty with its shady trees to sit under, Spanish tiled benches and monument to the Spanish discovery of Latin America in the centre. The other main aquares which are all dotted around the centre are the Plaza de Chile, Plaza de Italia, Plaza de Pellegrini and the Plaza San Martín. This final one pays homage to Argentine hero, José de San Martín (see the Argentina History section) who resided in Mendoza with his family. Today his name can be found all over the city on everything from monuments to restaurants. The park named after the same chap (Parque San Martín) is also one of the nicest places to relax in the city after you've passed through the very grand and ornamented gated entrance. Paseo de las Alamedas is a good example of one of Mendoza's wide avenues and it is decorated with lovely fountains and lots of greenery.
As no architecture remains from before 1861, you have to use your imagination abit, however, Mendoza is well stocked on Museums which can fill you in on the history of the city. The Museo Histórico General San Martín pays homage to San Martín and the Museo del Pasado Cuyano contains interesting artefacts about the history of the city. The Museo Municipal de Arte Moderno puts on interesting exhibitions by regional and national artists which change every month or so. The Iglesia, Convento and Basílica de San Francisco contain the 'miracle' of Mendoza - the image of the Virgin of Cuyo, which survived through earthquakes which have devastated buildings.
The obvious thing to associate with Mendoza is wine and this is certainly understandable when you have your first sip of a mendocino Malbec. There are tons of little bodegas close to the city and you can explore them over one or two days, or for hardcore win-o's you can extend your trip to last a week or two. The bodegas are very picturesque and set in the Andes, a tour normally consists of learning how the wine is produced and then a well deserved tasting sesh to finish up. Malbec, Merlot, Pinot Noir and Chardonnay are just a few of the wines to come out of Mendoza. But the possibilities don't end there - you can even visit a Cava winery at Bodega Tapiz. 16km from Mendoza city is the Bodega la Rural (Maipú) which has a unique Museo del Vino. In addition to the standard type of tour, this museum allows you to see all the wine cultivation and fermentation processes and machinery right up to the twentyfirst century modern day equipment which produces 6000 bottles every hour.
Around Mendoza you can visit the highest peak in the Americas, Anconcagua - whilst it is only climbable by experienced hikers you can still get some impressive views from the surrounding areas. Some of the world's best white water rafting can be enjoyed along the rivers Mendoza and Tunuyán and a whole host of other sports like trekking and mountain biking are perfect in the mountains or skiing and snowboarding in the snow-capped peaks at nearby Las Leñas. For more information check out our run-down on West Argentina.
Entertainment in Mendoza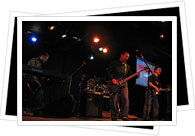 Eating is a divine pleasure in Mendoza. The culmination of great food and exquisite wine makes every meal memorable. There are plenty of small, traditional Argentine Parrilla type grills and also a whole host of sophisticated places to dine, where food doesn't come cheap but it's guaranteed to be a meal you won't forget in a long time. The swankiest place to churn out the most delicious gastro delights is Francis Mallmann 1884 (Belgrano 1188).
Mendoza is home to three theatres which put on different works round the year. There is also a lively music scene - the most famous place to catch some is the Soul Café (San Juan 456), however it is common to stumble upon little concerts in the local bars so keep your eyes and ears peeled as you explore the city.
There are bars and clubs aplenty in Mendoza, mainly filled with members of the young student population who are a laid back lot that know how to party. The areas of Chacras de Coria and El Challao are especially popular and so rammed full of bars and clubs it won't take you long to find somewhere you fancy going for a drink. The clubs or 'boliches' as they are known in these parts, don't tend to take themselves too seriously and generally knock out crowd pleasing salsa music to a friendly, fun-loving crowd.