Salta, Argentina is a lively city known as the 'capital of the north'. This buzzing place is an exciting stop off point to spend a few days exploring and also a perfectly located base for adventuring around the surrounding areas. Located amidst the Lerma valley, Salta lies 1187 metres above sea level and has spectacular views of the surrounding mountains of San Bernardo and 20 de Febrero. The indigenous Aymaran inhabitants of Argentina's Salta originally named it 'Sagta', meaning 'beautiful one' and this is a trait that has only been reaffirmed over the years, even with the arrival of the Spanish, special care has been taken to ensure that Salta is well looked after and aesthetically pleasing.
Sights in Salta, Argentina
There is tons to see and do in this captivating city but most people remember it for its carefully preserved and beautifully decorative colonial architecture. The attractive plaza 9 de julio is flanked by some of the most impressive buildings, including the Cabildo (town hall) built in 1783 which contains the Museo Histórico del Norte where you can learn all about the regions' interesting history. In this square you will also find the incredibly elaborate cathedral. Painted like a sickly sweet birthday cake in pink and yellow, this memorable building is like something out of a fairy story, especially when illuminated at night. It contains the ashes of General Martín Miguel de Guemes, an important figure in Argentina's independence. Another colourful building is the grand San Francisco convent, whose rich burgundy red and sparkling gold paintwork make a truly beautiful picture. The impressive Arias Rengal mansion houses a really good Museo de Bellas Artes. The Contemporary Art museum displays local artwork, perfect for giving you a taste of the local flavour and culture. Fans of Argentine artist Nicolas Garcia Uriburu's modern and unusual take on nature should definitely visit the Museo Uriburi.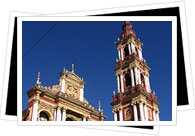 For panoramic views of the city, catch the cable car from the Parque San Martín up to the top of Cerro San Bernardo and breathe in some fresh mountain air whilst you admire the views. Argentina's Salta is the perfect city to stay in whilst you explore the surrounding northern Argentine regions, check out our Northwest Argentina Highlights page for a run-down of the top spots.
Entertainment in Salta, Argentina
Salta is a city which never fails to excite the unsuspecting visitor. As well as all the history within its streets, there is a massive choice when it comes to nightlife and entertainment, something which often makes people stay longer than they had originally planned...
There are a lot of cinemas and theatres in Salta, the Casa de Cultura always has especially exhibitions and shows and is also the base for the Salta Symphonic Orchestra, so a good place to catch some high quality classical music.
Salta is at one with its traditional roots and is a good place to catch some Argentine folk music and dance. There is a big choice for restaurants, especially around the most central plazas. Just like the music, the most popular food is traditional and the wines from the neighbouring Calchaquíes valleys are exquisite. For bars and clubs, most of the action takes place towards the train station in an area known as 'La Balcarce' where you will find a lively scene and lots of party people. For shopping head to the art and crafts market which takes place every weekend.