If you choose to travel by plane you will find you have a lot of choice with respect to Argentina air travel. There are a lot of different commercial companies which run daily international flights to and from Argentina, most of which use Buenos Aires' Ezeiza airport as a landing point.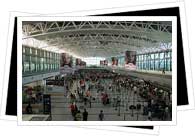 There are also several companies which run frequent domestic flights between Argentine cities. This option is an expensive one, however, if you are short on time it is well worth it as the sheer size of Argentina means you travelling by bus or car can take up a fair wedge of your time. Check out the following lists of the most popular companies for international and domestic Argentina air travel.
Note: On leaving Argentina it is obligatory to pay a departure tax.
International Flights:
International Flights arrive at and leave from Buenos Aires' Ezeiza Ministro Pistarini International Airport which is located 50km from the city centre.
Aerolineas Argentinas
www.aerolineas.com.ar
Aeroflot (Russian Airlines)
www.aeroflot.ru
Air France
www.airfrance.com
Alitalia (Italian Airlines)
www.alitalia.com
American Airlines
www.aa.com
British Airways
www.britishairways.com
Air Canada
www.aircanada.ca
Copa Airlines
www.copaair.com
Delta Airways
www.delta.com
Iberia Airlines
www.iberia.com
Lloyd Aero Boliviano (Bolivia)
www.labairlines.com.bo
Lufthansa
www.lufthansa.com
South African Airways
www.flysaa.com
United Airlines
www.united.com
Domestic Flights:
Domestic flights from Buenos Aires leave from the Jorge Newbery Aeropark and fly to most of Argentina's key cities .
Austral (Domestic branch of Aerolineas Argentinas)
www.austral.com.ar
Blue Airlines (for flights to Patagonia)
www.airlinesblue.com
Líneas Aéreas del Estado (LADE)
www.lade.com.ar
Southern Winds
www.sw.com.ar