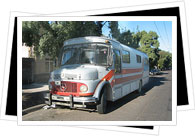 Travelling by bus often forces travellers to weigh up the importance of economic travel and comfortable travel, the two things rarely being possible at the same time. However, in Argentina all our preconceptions of hellish overnight journeys across unpaved roads can finally be laid to rest. Argentina bus travel is one of the most desireable methods of transport and successfully fuses reclining seats, friendly staff and refreshments with cheap, affordable tickets. Nightbuses no longer need to mean a sleepless night, instead they are the best way to maximise your time and see as much of Argentina as possible.
If you are offered the choice between 'common' and 'differential' services, always opt for the latter - it may cost you a bit more but the difference in facilities will be well worth the extra pennies. Take a look at the following list of reputable Argentina bus companies which offer daily services and operate all over the country:
Andesmar
www.andesmar.com
Nueva Chevallier
www.nuevachevallier.com
Río Paraná S.A
www.rioparanasa.com.ar
Solo Bus
www.solobus.com.ar
Vía Bariloche
www.viabariloche.com.ar
The main bus terminal in the City of Buenos Aires is Terminal de Ómnibus de Retiro, which is found at Avenida Antártida Argentina y Calle 10 (www-tebasa.com.ar). This enormous station is where the majority of buses arrive at and leave from, so you are likely to visit it at least once during your Argentine adventure.
Most of Argentina's key cities, main beaches and national parks are easily reachable by bus. The following chart outlines journey duration for popular destinations from Buenos Aires Retiro Bus Terminal:
Argentine Patagonia is harder to reach by bus due to the extreme weather conditions and the Tierra del Fuego can only be entered through Chile. Check out our guide to Argentina Air Travel for more information.