Football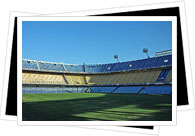 Since British immigrants first introduced football to Argentina in the late nineteenth century it has grown in popularity to become one of the country's biggest passions. Argentina has produced some of the world's best football players who have gone on to play for many different international teams.
Argentina football has united the country on an international level, most notably when they hosted and won the 1978 world cup and Mario Kempes starred as the goalscoring hero. Similarly Argentina football was recognised as some of the world's best when Diego Maradona led the country to victory in the 1986 world cup tournament.
Nonetheless, as in many cases, football in Argentina has served to divide on a national level, with a history of some of the fiercest football rivalry between teams and fans ever to be witnessed.
The most famous teams are based in Buenos Aires and fans are adamant about supporting their team in all matches. If you can catch a football game whilst in Argentina it will not only be an incredible sporting experience, but also an important cultural one. Here's out lowdown on Argentina's top football teams and stadiums:
Boca Juniors. Based in La Boca, southern Buenos Aires, this is probably the most famous national team and where Diego Maradona began his career. The team's stadium is the Alberto J Armando, also known as 'La Bombonera' or 'Chocolate Box' and it seats almost 60,000 spectators.


River Plate (Río de la Plata) - Another of Buenos Aires' most infamous teams are based in the Nuñez neighbourhood of the capital and play at the Estadio Monumental Antonio Vespucio Liberti, which seats over 65,000 football fans.
Boca Juniors and River Plate are two of the biggest rival teams in world football. The former is traditionally from the more working class 'barrios' of Buenos Aires, whilst the latter represents the upper classes. The passionate rivalry between fans is recognised on an international basis and their intense support for their respective teams during matches makes English football fanatics look tame in comparison. The chance to see these two teams play each other should not be passed up and it would certainly become one of the most fervent memories of your Argentina trip - just don't forget your whistles and banners to join in the fun.
Club Atlético Independiente. Otherwise known as the 'Red Devils' this team are based in the Avellaneda area of Buenos Aires and play at the Estadio Libertadores de América.
Independiente have long been rivals with the other team based in the same neighbourhood - Racing Club, who play at the nearby Juan Domingo Perón stadium.
San Lorenzo de Almagro - Based in Boedo, the City of Buenos Aires, play at the Estadio Pedro Bidegain which was built in 1993 after the team's original pitch, Estadio Gasómetro was demolished due to club debts. The new stadium seats just over 40,00 spectators.