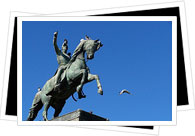 Top Sights in Córdoba, Argentina
To take in the best colonial architecture, head straight to the heart of the city, the Plaza San Martín. This square was constructed in 1577 and has a very bloody history as for years, it served as the site of executions. In 1947 the statue of San Martín became the centrepiece for a public square where locals come to relax and catch up with one another. It is surrounded by some of the city's most impresive architecture including Argentina's oldest Cathedral. This monumental construction was started in 1573 and took over two centuries to finish as three landslides impeded building. This has resulted in an unsual mixture of styles characteristic of each different architect who added to the building over the years. The result is an oppressive construction capped with a romanesque dome from 1753. The interior is elaborately decorated and positively dripping in gold ornamentation.
The city's Cabildo is an attractive building with a fresh white facade, the original building was constructed in the sixteenth century, however, what you see today is from the late eighteenth century. The Cabildo is now used for a varied range of art exhibitions and concerts so it's definitely worth checking out the timetable.
The old Jesuit Crypt is also now used as an atmospheric setting for theatrical and music productions. Originally used by the Jesuits as a noviciate, the place was later used as a crypt before being abandoned on King Carlos III of Spain's expulsion of the Jesuits around 1829. It was 150 years before the crypt was uncovered by none other than a telephone company who were laying down cables. The Manzana Jesuítica (Jesuit Block) is another important landmark and was named a UNESCO world heritage site in 2000. Amongst other things this interesting collection of buildings contains Argentina's first university, a church, college and the oldest Jesuit temple in the country, built in 1640.
Culturally rich Córdoba is a brilliant place to visit some of the best museums in Argentina. The working convent, el Monasterio de las Carmelitas Descalzadas de Santa Teresa Jesús was built in 1770. Although it is mainly closed to the public, the Museo de Arte Religioso Juan de Rejada displays an interesting collection of religious relics and artwork as well as some pretty gardens. The Museo Municipal de Bellas Artes Dr. Génaro Pérez is a must-see for art lovers with its extensive collection of nineteenth and twentieth century artwork from the Córdoba School of Art. It is also housed in one of the city's most attractive buildings, built in the late nineteenth century.
If you're feeling all 'cultured out' then why not head to the pretty Parque Sarmiento and escape the bustle of the city.