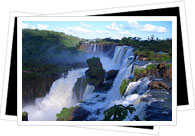 Parque Nacional Iguazú (El Litoral, Argentina)
This national park comprises of over 676 km sq and contains the famous Iguazú falls, the world's most impessive waterfalls. Opened in 1934, the area was named a UNESCO world heritage site in 1984.
Iguazú National Park contains two main trails which allow you to marvel at the 250 different waterfalls; The Paseo Superior and the Paseo Inferior. Then there is the Garganta del Diablo (devil's throat) which takes you on an unforgettable walk up, down and around the most impressive parts of the falls. Here, over 1800m3 of water cascades over a 3km drop making a thunderous noise and one of the most incredible sights in our natural world. In the rainy season it becomes even more raucous!
The subtropical climate and landscape in the park also means that interesting flora and fauna are in abundance, in fact the park is home to 450 species of bird and 5 species of giant cat.