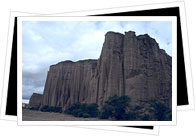 Parque Nacional Talampaya and Parque Provincial Ischigualasto (West Argentina)
The land within these two protected areas was named a UNESCO World Heritage site in 2000 and with good reason.
Talampaya is most recognised for its incredible canyon where dazzling red coloured sandstone cliffs reach a massive 180 metres and change in intensity from sunrise to sunset.
Ischigualasto is also famous for its landscapes, most notably the 'valley of the moon' and the huge number of unsual rock formations which abound from 'el champiñon' (the mushroom) to 'el submarino' (the submarine). This is also an extremely important site as the largest number of fossil remains from the Triassic Period have been excavated here, dating back some 180 million years.
The best place to enter Talampaya is from La Rioja, whilst Ischigualasto is easily accessed from San Agustín de Valle Fértil.