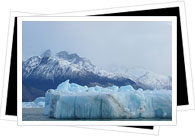 Parque Nacional los Glaciares (Argentine Patagonia)
If you can gear yourself up for the turbulent trip into the southernmost depths of Argentine Patagonia, you will not cease to be amazed by the incredible natural beauty which reaches out before you in this spectacular national park.
The main attractions are the famous Perito Moreno Glacier and the Fitz Roy mountain range, however, there are numerous other glaciers, lakes and peaks to climb and marvel at, making this park a brilliant choice for hiking fanatics ready to embark on challenging climbs. There are several different trails which can take anywhere between three to eight hours each way and many have good camping facilities to break the journey up.
When exploring the park you will be constantly stunned by the natural beauty of sparkling icy lakes and rivers, dramatic mountains and incredible glaciers - images that will become lasting memories for all visitors to the park. The most prominent of which will be the incredible sight that is the Perito Moreno Glacier, one of the only advancing glaciers in the world whose 60 metre high mass of ice is moving slowly eastwards. The thunderous roar as huge chunks of ice crack off and pound down the face of the glacier is almost as spectacular as the glacier itself.